Develop the next generation of advanced cyber threat prevention skills at a university nationally recognized for excellence in cyber security.
The Master of Science in cybersecurity technology at University of Maryland University College is an innovative degree program that draws from fields such as technology, forensics, management, law, science, business, and psychology to provide you with the most current knowledge and skills for protecting critical cyber infrastructure and assets.
These program requirements are for students who enroll in the 2017–2018 academic year. For prior year academic requirements, visit the catalog archive in the Current Students section.
About the Cybersecurity Technology Master's Degree
Coursework in the cybersecurity technology master's degree program features emerging topics in the field and builds in many opportunities for you to interact with employers through recruitment and networking events. Additionally, a board of industry leaders and employers advises our faculty to make sure our cyber security programs are covering emerging areas that are relevant to your career growth.
If you do not have a background in information technology, it is strongly recommended that you take our noncredit preparation courses in information technology and coding. These will give you a foundation that will help you succeed in the program.
What You'll Learn
Through your coursework, you will learn how to
Prevent network attacks through business impact and vulnerability assessments
Detect and mitigate cyber attacks through tools, techniques, and penetration testing
Develop a business continuity plan in the event of an attack
Apply digital protection techniques across operating systems and mobile platforms
Manage security architecture and operations
Integrate digital forensics investigative techniques
Identify system vulnerabilities and solve problems with intrusion detection tactics
Coursework Examples
In past projects, students have had the opportunity to
Use protocol analyzers, intrusion detection systems, intrusion prevention systems, network mapping tools, network scanning tools, encryption/decryption tools, digital forensics tools, and password exploitation tools
Perform ethical hacking and vulnerability assessments
Industry Certification
This program can help prepare you for the following certification exams:
Cybersecurity Technology Master's Degree Requirements
Our curriculum is designed with input from employers, industry experts, and scholars. You'll learn theories combined with real-world applications and practical skills you can apply on the job right away.
Master's Courses
Core Courses
CBR 600

CST 610
CST 620
CST 630
CST 640
CYB 670
All courses must be taken in the order listed. 
You must complete each course with a grade of B or better to advance to the next course. The grade of C is not available for these courses. 
The courses in this program will have seven-day and 60-day options for the grade of Incomplete.
Other Requirements
You must maintain a GPA of 3.0 or higher at all times.
All degree requirements must be fulfilled within five consecutive years.
Any transfer credits must have been earned within the five-year time frame to be applied toward a graduate degree.
Career Preparation
This program is designed to help prepare cyber security technology leaders who can develop mission-focused digital strategy for organizations. Potential career fields include cyber security and technology architecture, information security, cyber security analysis and engineering, board advising, and cyber security consulting.
Experience Recommended for Success in the Program
If you do not have work experience in information technology, computer networks, or databases, we strongly recommend you take ASC 605. If you have not taken programming courses previously, we strongly encourage you to take ASC 609. We recommend ASC 601 if you'd like to improve your graduate writing skills.
Why study cyber security anywhere else?
UMUC has a good reputation and a wide variety of quality programs for people who work full-time. For me, learning online is the best option for maintaining a balanced work and social life while going to school.
Emily Roberts
Cybersecurity Technology Master's Degree
UMUC has been a leader in cybersecurity education for a while. We were one of the first institutions to offer full degree programs and certificates in cybersecurity starting back in 2010 when there were very few others out there.
Emma Garrison-Alexander, PhD
Professor and Vice Dean, Cybersecurity and Information Assurance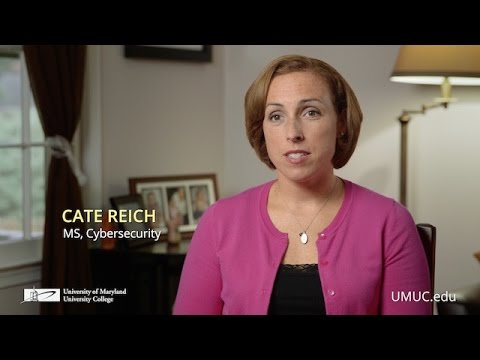 Find out how UMUC made the difference for Cate Reich and her family.
Student Clubs and Organizations
Computing Club
Type: Academic club
Available To: Undergraduate and Graduate
The Computing Club allows its student members to share experiences and offer each other guidance on academic major and career options. Club events provide opportunities for professional socialization and networking, and members are privy to club resources that will help them further their education and careers.
Cyber Padawans
Type: Academic club
Available To: Undergraduate and Graduate
The Cyber Padawans represent UMUC at various cybersecurity events and highly competitive tournaments nationwide. Being a member of the team allows students to develop their cybersecurity skills and to network with other students with similar interests.
About the Faculty
Our world-class faculty members combine academic credentials with a wealth of experience in the field.
Faculty members in this program hold or have recently held positions including
Assistant attorney general
Assistant deputy undersecretary
Chief information officer
Chief information security officer
Chief technology officer
Cryptologic manager
Deputy chief, cyber security operations
Director, server operations group
IT director
Team lead, cyber threat analysis
Technical director, security engineering and testing
Our faculty work or have worked at organizations including
Defense Information Systems Agency
General Dynamics
The Johns Hopkins University Applied Physics Laboratory
Lucent Technologies
National Biomedical Research Foundation
National Security Agency
Transportation Security Agency
Science Applications International Corporation
State of Maryland
State University of New York
U.S. Department of Defense
U.S. Department of Homeland Security
Verizon
Featured Faculty
Additional Information
The cybersecurity curriculum makes extensive use of online multimedia learning objects and interactive exercises. A minimum Internet connection speed of 512 KB per second is recommended with an up-to-date browser.
Frequently Asked Questions About the Program