Master management skills and the latest best practices with the master's degree in management with a specialization in human resource management.
The Master of Science in management with a specialization in human resource management from University of Maryland University College is designed to give you the knowledge and skills you need to move up the ranks in the HR field. Gain practical, management-level experience in the theory, research, knowledge, and procedures used by HR executives, generalists, and specialists—and develop a skill set you can take anywhere.
These program requirements are for students who enroll in the 2016–2017 academic year. For prior year academic requirements, visit the catalog archive in the Current Students section.
About the Management Master's Degree with Human Resource Management Specialization
The curriculum for the master's degree in management with a specialization in human resource management can teach you practical skills to make you a strong decision maker and manager in any human resources setting. You'll explore topics in staffing, compensation, training, change management, labor relations, and more.
Through your coursework, you will learn how to
Make decisions using statistics and financial information
Use organizational theory, effectiveness measurement, and systems thinking to solve problems
Manage intercultural environments
Use leadership styles and rewards programs to incentivize employees
In past projects, students have had the opportunity to
Evaluate five online platforms that could be used by a multinational company to communicate across worldwide divisions, and write a report to the CEO that includes a recommendation of which one is best for the company to use
Create a proposal for an onboarding program for new consultants in a company experiencing high turnover
Research a labor/employee relations topic in depth and report findings in a five-page briefing paper
Management Master's Degree with Human Resource Management Specialization Requirements
Our curriculum is designed with input from employers, industry experts, and scholars. You'll learn theories combined with real-world applications and practical skills you can apply on the job right away.
Introductory Course
UCSP 615
(to be taken within the first 6 credits of study)
We also recommend UCSP 605 if you'd like to improve your graduate writing skills.
Core Courses
MGMT 630
MGMT 640
MGMT 650
Core Rules & Recommendations
You can take MGMT 610 and MGMT 615 instead of MGMT 630.
MGMT 610 must be taken within the first 6 credits.
MGMT 640 and MGMT 650 should not be taken at the same time.
If you don't have recent statistics experience, take UCSP 630 before MGMT 650.
If you lack a recent background in finance or accounting, you should take UCSP 620 before MGMT 640.
Specialization Courses
HRMD 610
HRMD 620
HRMD 630
HRMD 640
HRMD 650
HRMD 651
HRMD 665
Specialization Rules & Recommendations
Classes must be taken in the order listed.
Capstone Course
Capstone Rules & Recommendations
You must complete 24 credits, including all core requirements, before enrolling in MGMT 670.
You must maintain a GPA of 3.0 or higher at all times.
All degree requirements must be fulfilled within five consecutive years.
Any transfer credits must have been earned within the five-year time frame to be applied toward a graduate degree.
UMUC has really molded me into the HR professional I am today. I was able to receive a promotion while still an intern. I came in as GS-7 and was promoted to GS-9, receiving more responsibility and being more independent.
Tameka Lyons
Human Resource Management Bachelor's Degree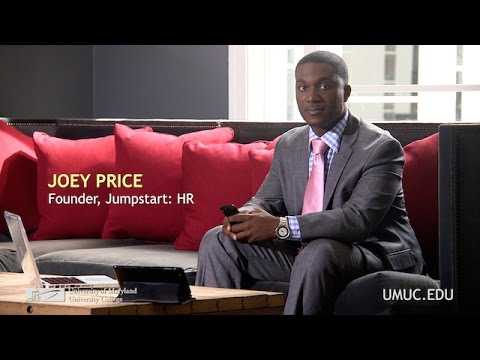 Alum Joey Price talks about how his UMUC education prepared him to give a slam-dunk presentation on human resources.
Student Clubs and Organizations
Society for Human Resource Management, UMUC Chapter
Type: Student organization
Professional Affiliation:
Society for Human Resource Management
Available To
: Undergraduate and Graduate
Joining the UMUC Chapter of the Society for Human Resource Management allows you to network with other students, staff, and faculty who are currently working in or are interested in entering the human resource field. Members share information, experiences, and knowledge. The chapter hosts monthly events designed to help students meet local professionals and transition into or advance within the field. In addition, the chapter provides leadership and student development opportunities for members.
About the Faculty
Our world-class faculty members combine academic credentials with a wealth of experience in the field.
Faculty members in this program hold or have recently held positions including
Attorney
Director of human resources management
International management consultant
Senior global learning and development manager
Senior legislative and intergovernmental affairs specialist
Vice president of human resources
Our faculty work or have worked at organizations including
National Labor Relations Board
New York Times Company
U.S. Economic Development Administration
Featured Faculty