Put yourself on the path to an executive director position with a master's degree in management with a specialization in nonprofit and association management.
The Master of Science in management with a specialization in nonprofit and association management from University of Maryland University College can help you learn to successfully direct an organization in the nonprofit sector. Whether you're in an association, development organization, foundation, or political organization, you'll learn the latest governance strategies, as well as the foundations of solid financial management and leadership to help your organization fulfill its mission.
These program requirements are for students who enroll in the 2016–2017 academic year. For prior year academic requirements, visit the catalog archive in the Current Students section.
About the Management Master's Degree with Nonprofit and Association Management Specialization
Your courses in the nonprofit and association management specialization will provide you with a thorough understanding of the nonprofit sector, with courses in nonprofit management, financial management, revenue generation and cost control, law and governance, as well as approaches to promotion, marketing, and fundraising.
Through your coursework, you will learn how to
Manage finances and generate revenue for a nonprofit organization
Analyze legal and governance-related issues
Recruit and manage volunteers
Promote, market, and fundraise for a nonprofit organization
Measure outcomes and processes
Develop a leadership style and strategy
Management Master's Degree with Nonprofit and Association Management Specialization Requirements
Our curriculum is designed with input from employers, industry experts, and scholars. You'll learn theories combined with real-world applications and practical skills you can apply on the job right away.
Introductory Course
UCSP 615
(to be taken within the first 6 credits of study)
We also recommend UCSP 605 if you'd like to improve your graduate writing skills.
Core Courses
MGMT 630
MGMT 640
MGMT 650
Core Rules & Recommendations
You can take MGMT 610 and MGMT 615 instead of MGMT 630.
MGMT 610 must be taken within the first 6 credits.
MGMT 640 and MGMT 650 should not be taken at the same time.
If you don't have recent statistics experience, take UCSP 630 before MGMT 650.
If you lack a recent background in finance or accounting, you should take UCSP 620 before MGMT 640.
Specialization Courses
NPMN 600
NPMN 610
NPMN 620
NPMN 640
NPMN 650
NPMN 655
NPMN 660
Specialization Rules & Recommendations
NPMN 600 must be taken as the first specialization course.
It is recommended that you take NPMN 650 before NPMN 655.
Capstone Course
Capstone Rules & Recommendations
You must complete 24 credits, including all core requirements, before enrolling in MGMT 670.
You must maintain a GPA of 3.0 or higher at all times.
All degree requirements must be fulfilled within five consecutive years.
Any transfer credits must have been earned within the five-year time frame to be applied toward a graduate degree.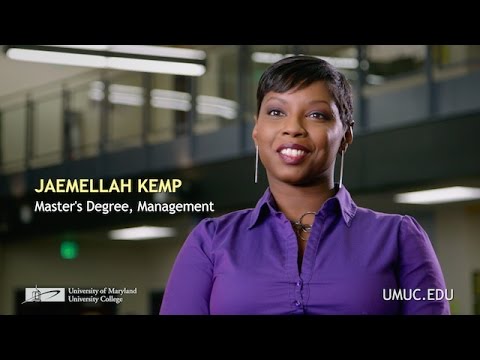 Alumna Jaemellah Kemp shares about how UMUC helped her accomplish her goals.
Student Clubs and Organizations
Business and Management Club
Type: Academic club
Available To: Undergraduate and Graduate
This club allows students to network and discuss their shared interests with one another and their faculty members, enabling them to learn more about the field.
About the Faculty
Our world-class faculty members combine academic credentials with a wealth of experience in the field.
Faculty members in this program hold or have recently held positions including
CEO
CFO
Executive director
Our faculty work or have worked at organizations including
American Bankers Association
National Home Builders Association